> Brass Monkey > Songs > See Me Dance the Polka
See Me Dance the Polka
[ Roud 7932 ; VWML RoudFS/S383921 ; George Grossmith]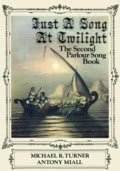 John Kirkpatrick sang See Me Dance the Polka in 2017 on his Fledg'ling CD Coat-Tails Flying. He commented in his liner notes:
Dating from 1886, this is one of about 600 songs written by the immensely popular Victorian entertainer George Grossmith (1847-1912). He also wrote numerous sketches, plays, comic operas, and monologues, which he delivered from the piano, and worked for a time as a journalist, contributing both comic and serious pieces. With his brother Weedon he wrote the comic novel Diary of Nobody. For a while he was also a featured soloist with the D'Oyly Carte Company, creating many of the lead roles in the operettas of Gilbert and Sullivan.

The story goes that while he was on a tour in Scotland, he was summoned to play for Queen Victoria at Balmoral, and included this song as part of his performance. Not only was she amused, but she demanded the song again as an encore! Anybody who loves dancing would do the same.

Some traditional musicians play the chorus as a dance tune, and the song is still vaguely familiar among today's audiences. After a fairly lengthy search, I found the words and music in Just a Song At Twilight: The Second Parlour Song Book, edited by Michael Turner and Antony Miall and published by Michael Joseph Ltd in 1975.
Lyrics
George Grossmith's See Me Dance the Polka
John Kirkpatrick sings See Me Dance the Polka

A fig for the set of Lancers,
A fig for the old Quadrille,
They may suit some kind of dancers,
But their dullness makes me ill;
A fig for the stately waltzing,
Which really is absurd;
On the small Cotillion, unsuited to the million,
I will not waste a word.
You should see me dance the Polka,
You should see me cover the ground,
You should see my coat-tails flying,
As I jump my partner round;
When the band commences playing,
My feet begin to go,
For a rollicking romping Polka
Is the jolliest fun I know.

Oh, a fig for the set of the Lancers,
A fig for the old Quadrille,
They may suit some kind of dancers,
But their dullness makes me ill;
A fig for the stately waltzing,
Which really is absurd;
On the small Cotillion, unsuited to the million,
I will not waste a word.
You should see me dance the Polka,
You should see me cover the ground,
You should see my coat-tails flying,
As I jump my partner round;
When the band commences playing,
My feet begin to go,
For a rollicking romping Polka
Is the jolliest fun I know.

I've danced it in the Ball room,
And then would dance it still;
I've danced it in a small room,
I've danced it on the hill.
With every kind of partner,
In every kind of hall,
I've even had to suffer, by dancing with a duffer
Who couldn't do the step at all.
You should see me dance the Polka,
You should see me cover the ground,
You should see my coat-tails flying,
As I jump my partner round;
When the band commences playing,
My feet begin to go,
For a rollicking romping Polka
Is the jolliest fun I know.

I've danced it in the Ball room,
And then would dance it still;
I've danced it in a small room,
I've danced it on a hill.
With every kind of partner,
In every kind of hall,
And I've even had to suffer, by dancing with a duffer
Who couldn't do the step at all.
You should see me dance the Polka,
You should see me cover the ground,
You should see my coat-tails flying,
As I jump my partner round;
When the band commences playing,
My feet begin to go,
For a rollicking romping Polka
Is the jolliest fun I know.

I know I'm rather active,
And not devoid of grace,
But still I'm unattractive,
In feature, form and face;
I have a simple fortune,
And lead a simple life,
You know what an old maid is? Well fourteen of those ladies
Offered to be my wife.
They saw me dance the Polka,
They saw me cover the ground,
They saw my coat-tails flying,
As I jumped my partner round;
When the band commences playing,
My feet begin to go,
For a rollicking romping Polka
Is the jolliest fun I know.

Now I know I'm rather active,
And not devoid of grace,
But still I'm unattractive,
In feature, form and face;
I have a simple fortune,
And lead a simple life,
Now you know what an old maid is? Well fourteen of those ladies
Offered to be my wife.
When they saw me dance the Polka,
When they saw me cover the ground,
When they saw my coat-tails flying,
As I jumped my partner round;
When the band commences playing,
My feet begin to go,
For a rollicking romping Polka
Is the jolliest fun I know.

One of my rich relations
Was very fond of me,
From him I'd expectations,
In form of a legacy.
I calculated surely,
On a house and an acre or two,
So I went and got married, but my hopes miscarried,
And what was I to do?
He left me a copy of a polka,
And on the cover I found
A sketch of my coat-tails flying,
As I jumped my partners round;
When the band commences playing,
My feet begin to go,
For a rollicking romping Polka
Is the jolliest fun I know.

Now one of my rich relations
Was very fond of me,
Of him I'd expectations,
In the form of a legacy.
I calculated surely,
On a house and an acre or two,
And I went and got married, but my hopes miscarried,
And what was I to do?
'Cause he left me a copy of a polka,
And there on the cover I found
A sketch of my coat-tails flying,
As I jumped my partner round;
When the band commences playing,
My feet begin to go,
For a rollicking romping Polka
Is the jolliest fun I know.

(To be sung a little slower, in rather a quavery voice)
But now I'm old and shaky,
My back is bent, you see,
My limbs are rather quaky,
And scarcely bear with me.
I'm never asked to dances,
I'm placed upon the shelf,
But altho' I'm rheumatic, still as long as I've an attic,
I'll dance it by myself.
You shall see me dance the Polka,
You shall see me cover the ground,
You shall see my coat-tails flying,
As I hobble myself around;
If I hear an organ playing,
So long as my strength don't give,
I'll dance that rollicking Polka,
The longest day I live.


And now I'm old and shaky,
My back is bent, you see,
My limbs are rather quaky,
And scarcely bear with me.
And I'm never asked to dances,
I'm placed upon the shelf,
But altho' I'm rheumatic, as long as I've an attic,
I'll dance it by myself.
You shall see me dance the Polka,
You shall see me cover the ground,
You shall see my coat-tails flying,
As I hobble myself around;
When I hear the organ playing,
As long as my strength don't give,
I'll dance that rollicking Polka,
The longest day I live.

(repeat first chorus)