> John Kirkpatrick > Songs > The Farmers and the Cow
The Farmers and the Cow
[ Roud 5318 ; trad.]
John Kirkpatrick sang The Farmers and the Cow in 2007 on his Fledg'ling CD Make No Bones and took the album's title from the lyrics of this song. He commented in the sleeve notes: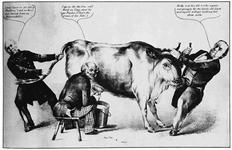 Based on the song [The Lawyer and the Cow] recorded from Beth Bond, of Blackpool, Lancashire, by Nick & Molly Dow in 1985, and included a year later on their cassette of traditional singers from the Fylde coast, Fleetwood Mashers [Old House Music OHC 105]. I've never heard the song anywhere else but Beth Bond (described as being of "late middle age" on the cassette notes) remembers seeing a picture illustrating the song in a pub in Garstang, where she was brought up. I've also been told that the farmers pulling at the cow was a popular subject for the small china figures known as "fairings"—because you'd buy them as a souvenir from the fair—something that the better brought up amongst us have been singing about for years in Oh, Dear, What Can the Matter Be?
Lyrics
John Kirkpatrick sings The Farmers and the Cow
Two farmers met at a fair and between them bought a cow,
They both did wish to take it home, but couldn't agree somehow.
They met with a lawyer by the way, who tried to take the case,
But to see how they carried on that day, you'd say t'was a disgrace.
Chorus (repeated after each verse):
One Farmer pulled its head and the other one pulled its tail,
And over it they had a jolly row, hello,
And both to law they went, and all their money spent,
Whilst the lawyer kept a-milking of the cow, cow, cow,
Whilst the lawyer kept a-milking of the cow.
Said Farmer Jones, "Now make no bones, that cow belongs to me.
We bought the cow between us, but I first the cow did see,
He knows we made a bargain, but now he wants to row,
But I mean to fight, with all my might, until he gives me half that cow."
Says Farmer Brown to the lawyer, "Just list what I do say,
We bought the cow between us, but Jones had no money to pay.
He said he'd give me an I.O.U. but that's no use to me.
If you tell me how to keep the cow, I'll double your usual fee."
So, Jones and Brown to law they went but what with fees and costs,
They cursed and shouted, scant and swore, till all their money was lost.
The Judge at last threw out the case, and costs would not allow,
And I'm sorry to say, that they neither could pay, so the lawyer slayed the cow.
Links
See also the Mudcat Café thread The Lawyer – 2 Farmers – 1 Cow.