> A.L. Lloyd > Songs > Heenan and Sayers
> Martyn Wyndham-Read > Songs > Sayers' and Heenan's Great Fight
Heenan and Sayers
[ Roud 2148 ; Laws H20 ; Ballad Index LH20 ; trad.]
Heenan and Sayers desribes the the glorious boxing fight between John Carmel Heenan and Tom Sayers at Farnborough, Hampshire, on 17 April 1860.
A.L. Lloyd, accompanied by Steve Benbow on guitar, recorded Heenan and Sayers in 1962 for his and Ewan MacColl's Topic EP Gamblers and Sporting Blades. It was reissued in the USA on the Riverside LP Champions and Sporting Blades and in 1998 on the Topic CD Bold Sportsmen All. Lloyd commented in the original EP's sleeve notes: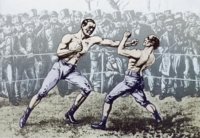 The fight between the heavyweight champion Tom Sayers and John C. Heenan, the Benicia Boy, took place on 17 April 1860, at Farnborough, Hampshire. In the 37th round, the friends of both fighters stormed into the ring and had to be dispersed by the police. After four more rounds, the police again intervened, the fight was stopped, and the result was declared a draw. Several ballads described the battle of the giants. As a rule, the American versions favour Heenan, while English versions declare that only police intervention robbed Sayers of a glorious victory. The present ballad, sounding fairly impartial, awards the golden glove, fair and square, to Heenan.
Martyn Wyndham-Read sang Sayers' and Heenan's Great Fight in 1977 on the Broadside album English Sporting Ballads.
Lyrics
Heenan and Sayers
You ranting lads and sporting blades, come listen to my song.
I'm sure that it will please you well and it won't detain you long.
't was the seventeenth of April and thousands went with joy
To see the English champion and the bold Benicia Boy.
It was in the town of Farnborough all in the blooming spring,
When the burly English champion he stripped off in the ring.
He stripped to fight young Heenan, the gallant son of Troy,
And to try his English muscle on the bold Benicia Boy.
It was early in the morning before the cock did crow,
Like tigers into battle these gallant lads did go.
The blood if flew in torrents and never a blow they missed,
And they carried a bunch of thunderbolts well fastened in each fist.
...