> Folk Music > Records > A Selection from The Penguin Book of English Folk Songs
A Selection from The Penguin Book of English Folk Songs
All tracks traditional, arranged by the artists.
Recorded and produced by Paul Adams 1985, 1993, and 1994.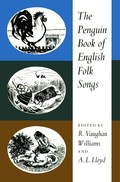 All songs have been taken from The Penguin Book of English Folk Songs, selected and edited by Ralph Vaughan Williams & A.L. Lloyd, Penguin, 1959. This gem had been out of print for a long time, but in 2003 it has finally been re-published by the English Folk Dance and Song Society as Classic English Folk Songs, revised by Malcolm Douglas and with a new bibliography by David Atkinson and a foreword by Martin Carthy.
Compare to this A.L. Lloyd's album England & Her Traditional Songs: A Selection from the Penguin Book of English Folk Songs.
Musicians
Linda Adams: vocals, English concertina;
John Bowden: vocals, Anglo concertina;
Martin Carthy: vocals, guitar;
Roy Harris: vocals;
Jez Lowe: vocals, guitar, cittern, harmonica, Appalachian dulcimer, keyboards
Tracks
LP Side 1
LP Side 2
An alternative take of Banks of Green Willow with Martin Carthy, John Bowden, Jez Lowe, Linda Adams, Roy Harris and Paul Adams under the name "The Famous Five + 1" was released on the Fellside Records sampler Flash Company. On this version, Paul Adams is singing instead of Martin Carthy.
Martin Carthy's The Whale Catchers was re-released in 2001 on the 4CD compilation The Carthy Chronicles.
CD
The CD has three extra tracks, The Golden Vanity, The Green Bed, and The Streams of Lovely Nancy: