> Folk Music > Records > Ray Driscoll: Wild, Wild Berry
Ray Driscoll: Wild, Wild Berry
Wild, Wild Berry
Field Recordings of Tradtional Song
Ray Driscoll (1922-2005)

Artension CD703 (CD, UK, 2008)
Recorded and produced by Gwilym Davies at various locations between 1993 and 2002
Musical Traditions review by Andy Turner
Musicians
Ray Driscoll: vocals
Tracks
Hopping Down in Kent (1.22)
Banks of Sweet Primroses (Roud 586; G/D 8:1841) (2.33)
My Bonny Boy (Roud 31; Laws O35; G/D 6:1222) (2.57)
Bonny Labouring Boy (Roud 1162; Laws M14; Henry H576) (3.37)
The Death of Queen Jane (Roud 77; Child 170; G/D 3:693) (2.10)
The Doughty Packman (Roud 18306) (2.02)
The Galway Shawl (Roud 2737; Henry H652) (2.05)
Glen Swili (Roud 5087) (1.46)
Hanwood Carols (Roud 936, 8364, 30012) (2.54)
Shropshire Football Song (1.20)
We Are the Peckham Boys (Roud 10514) (0.27)
I Was Drunk Last Night (Roud 10531, 10523, 1124) (1.43)
Oh Mariners All (Roud 1191) (1.46)
I Went to the Panto Tomorrow (Roud 22671) (0.39)
In Foo Chan Foo (Roud 22711) (0.51)
It Won't Last Very, Very Long (Roud 10710) (1.01)
You've Got a Long Way To Go (Roud 10717) (0.40)
Willie I Am (0.48)
The Irish Soldier Boy (Roud 22061) (1.57)
Hares on the Mountain (Roud 329) (0.36)
Lovely Joan (Roud 592) (2.30)
Old Father Fox (Roud 131; G/D 3:499; Henry H38) (1.39)
Pompalarie Jig (Roud 18853) (1.34)
Prickelie Bush (Roud 144; Child 95; G/D 2:248) (2.34)
Rocking the Cradle (Roud 357) (1.48)
Roman Soldiers (Roud 8255) (0.55)
Sir Patrick Spens (Roud 41; Child 58; G/D 1:17) (1.50)
Soldier, Soldier (Roud 489) (1.52)
Wassail Song (Roud 209) and Souling Song (Roud 304) (1.22)
Jones's Ale (Roud 139; G/D 3:561) (2.54)
Lord Randall (Roud 10; Child 12; G/D 2:209; Henry H814) (2.40)
The Wild, Wild Berry (Roud 24845) (1.53)
All tracks trad.
Notes
[These notes used to be on a now defunct web server used by Gwilym Davies]
Wild, Wild Berry
The Songs of Ray Driscoll
Artension CD703
In the mid 1990s, it was rare to meet a singer of folk songs who had a large repertoire of songs and who had not been particularly influenced by the folk music revival. However, one such person was Ray Driscoll.
Ray was born in County Mayo, Ireland in 1922. His father was in the 5th Royal Irish Lancers and the family moved to England when Ray was three years old. Although Ray spent most of his life in England, he always retained a strong Irish streak. From an early age he learned songs from his father, who played the fiddle. Ray's father was also an Irish Gaelic speaker and from him Ray learned to speak much of the language. After spending his boyhood in London, Ray and his two younger brothers were evacuated to Hanwood in rural Shropshire when the Blitz started. There Ray met and married his first wife, whose family knew a number of folksongs which they would sing in the house after returning from the pub, the Cock Inn at Hanwood. Ray served with the Royal Navy during World War II, spending time at both ends of the British Isles, at Scapa Flow and Portsmouth, and continued to pick up songs wherever he went. After the war, Ray went back to London and worked as a printer in Fleet Street. Following the death of his first wife, he married Sheila, a Londoner, and the couple moved back to Shropshire after her retirement.
In the 90s, Ray was 'discovered' when someone tipped off Mike Yates that they had heard a man singing some unusual songs at a party. Mike recorded a few songs from Ray and then put me on the case. In 1993 I went to visit Ray in his home in Dulwich and was immediately impressed by the friendly welcome extended to me from Ray and his wife Sheila. That afternoon, I recorded a dozen or so songs from Ray, including the rare ballad Death of Queen Jane. This was the start of a long friendship as I introduced Ray to the folk 'scene' at a few singaround-type folk festivals in the south of England. In Gloucestershire he became great friends with the gypsy singer Wiggie Smith, based on their mutual interest in martial arts.
A feature of Ray's musical life is that although he was never part of the folk 'scene' until his later years, he took a keen interest in folk culture and was a regular at Padstow for the May Day celebrations. There he met and befriended several folk singers including members of 'Elsie's Band' from Kent, who learned and still perform some of Ray's songs. He was once booked for the National Folk Festival at Loughborough where he shared the stage with the McPeake family and never stopped talking about it thereafter!
Ray had other talents. He won many bouts as an amateur wrestler and remained strong and fit into his 70s. He often fought and beat Jackie Pallo whom he regarded as a poor wrestler—being drawn against Jackie was like getting a bye. Once a doctor told Ray to squeeze his hands to test his grip—and nearly broke the doctor's bones.
Ray was always very fond of Shropshire and lived his latter years there in Shrewsbury, where he died in 2005.
This CD is a tribute to Ray and his songs and has been produced with the help of Sheila, his widow.
His songs were first recorded by Mike Yates in the early 1990s. The recordings here were made by Gwilym Davies at various locations between 1993 and 2002.
Gwilym Davies
Cheltenham
July 2009
Notes on the songs - note that some have sound clips:
Hopping Down in Kent (Roud 1715) — learnt during Ray's stay in London. Ray himself never went hop-picking, but listened to the songs sung by the returning hoppers. Listen out for Ray's unique verse describing the rudimentary sanitary conditions.
Banks of Sweet Primroses (Roud 586) — one of the songs learnt from his first wife's family in Hanwood, Shropshire
My Bonny Boy (Roud 31) — Also known as Long a-growing or The Trees they grow high. Ray learnt several songs from his Irish father, who was also a fiddle player. This song was Ray's favourite and demonstrates well his Irish style of singing.
Bonny Labouring Boy (Roud 1162) — Ray could not remember where he obtained this version and had to be helped out with the words.It may stem from a commercial recording of Harry Cox.
The Death of Queen Jane (Roud 77, Child 170) — a rare song these days in the tradition. It tells the story of Jane Seymour, Henry VIII's third wife, who died in 1537 a fortnight after giving birth to their son Edward. The song suggests that the baby was delivered by Caesarean section, but there is no historical evidence to support this. Ray learned this version from an itinerant farm worker in Hanwood, whom he called Harry Civil, although it seems that the nickname 'Civil' was ironic as Harry was usually far from civil.
The Doughty Packman (Roud 18306) — one of several songs that are unique to Ray's repertoire. taught it at school in London and it remained with him ever since. The teacher had the words written in a notebook and Ray took a peek during playtime. He found that while the teacher had taught them 'spent on his board', the real words were 'spent on a bawd', i.e. a prostitute. The song is a mystery. It has some archaic vocabulary, such as 'wolves' heads' (heads of captured robbers), 'hansell' ('reward, bounty'), and 'shire-reeve' ('Sherriff'). Could it be that the teacher had actually preserved an old song, or was it a recent composition? We may never know.
The Galway Shawl (Roud 2737) — Another of the songs learnt by Ray from his father. Ray was scornful of revival folk singers who use the 'she wore no jewels' verse as a chorus.
Glen Swili (Roud 5087) — Properly called Glen Swilly, which is in County Donegal. Probably learnt by Ray from his father.
Hanwood Carols (Roud 936, 8364, 30012) — village communities often had their own repertoire of carols, sung in a pub or carol-singing context rather than the church. The village of Hanwood in Shropshire, where Ray lived during and after WW II, had and still has its carols, sung in the Cock Inn at Christmas. Ray's tune for While Shepherds Watched to the tune Lyngham is well known throughout England and was reportedly composed by Thomas Jarman in the early 19th century.;How Beautiful upon the Mountain is popular amongst village carolling communities, including the villages around Sheffield.i The song Goodnight, goodnight sounds familiar but I have not been able to trace other versions.
Shropshire Football Song — this track should really be titled Shropshire and London footballs songs. The first refers to the football team from Hanwood, pronounced Han'ud locally, whilst the second is from London. At one time, many local football teams had their own supporters' chants.
We Are the Peckham Boys (Roud 10514) — Versions of this chant are claimed as a local song by many groups, including Gloucester rugby club supporters.
I Was Drunk Last Night (Roud 10531, 10523, 1124) — learnt during Ray's service in the Royal Navy and reminiscent of many an evening spent singing around the mess piano. It is really a medley of several songs Drunk last night, When the beer is on the table, Here's to the Good old Whisky and Very good song.
Oh Mariners All (Roud 1181) — also known as A Jug of This or Ye Mourners all. This appears to be a remarkable survival of continuing oral tradition in Ray's repertoire. Ray claimed to have learnt the song in the Navy in the 50s, possibly in Portsmouth. Ray's tune is very similar to that collected by Hammond from Marina Russell in Upwey, Dorset in 1907 whilst some of the words are the same as those collected by Hammond from William Haines near Sherborne, Dorset in 1906 but Ray has some verses unique to him. In the absence of any other information, this appears to be a genuine transmission of oral folksong. Interestingly, Ray was willing to sing the song to me but dismissed it as 'a bit of a dirge'.
I Went to the Panto Tomorrow (Roud 2671) — This appears to be a snatch of a music hall song, containing the traditional back-to-front language as used in mummers plays and comic monologues.
In Foo Chan Poo (Roud 22711) — again, a snatch of a music hall song. Nothing more could be found concerning this song.
It Won't Last Very, Very Long (Roud 10710) — Composed by Frank W Carter and R P Weston, and sung by Harry Champion in 1902. Ray's version was incomplete. Oral versions have turned up in East Anglia and Kent.
You've Got a Long Way to Go (Roud 10717) — another old music hall song, versions of which have turned up in oral tradition in East Anglia.
Willie I Am — this seems to be a remnant of a longer song, possibly The Old Riverside, in which the boy, having seduced the girl, refuses to marry her and suggests that she go back to her father. She refuses to do so and he murders her. I have come across exactly the same fragment from a Hampshire traveller singer.
The Irish Soldier Boy (Roud 22061) — a song very popular in Ireland but origin unknown.
Hares on the Mountain (Roud 329) — many versions of this song have been collected, mainly in England. It is not known where Ray learnt this song.
Lovely Joan (Roud 592) — I was delighted to record this from Ray and asked where he had learnt it. He looked surprised and said "I learnt the tune from the Vaughan Williams sea symphony and then heard a folk group in Shrewsbury sing it in a pub, so I got the words off them." So not passed on through oral tradition, then, but a good rendition nonetheless.
Old Father Fox (Roud 131) — in most versions the fox is referred to as Daddy Fox, and Ray's version is the only one collected in England referring to Father Fox.
Pompalarie Jig — This is unique to Ray's repertoire and is also unique in treating the theme of the Battle of Waterloo in a more sardonic fashion. Ray learned this song during the war from an Irish singer in Wigan who earned the nickname 'Pompey' from his many renditions of this song. 'Pompey' would march up and down the bar singing and then someone would play the tune (possibly on a fiddle) between the verses.
Prickelie Bush (Roud 144, Child 95) — another song learnt from Shropshire singers.
Rocking the Cradle (Roud 357) — a version learnt from his Irish father.
Roman Soldiers (Roud 8255) — a old singing game learnt by Ray as a child in London, now rarely heard from British children.
Sir Patrick Spens (Roud 41, Child 58) — Ray learnt the tune from Scottish fellow worker during WWII. The singer told him that the tune was Sir Patrick Spens but could not provide any words, so Ray found the words in a printed source. The tune is basically the same as that sung by Ewan MacColl.
Soldier, Soldier (Roud 489) — an Irish version of a well-known theme. Ray heard the band 'Brass Monkey' sing the song and this reminded him of his own version.
Wassail and Souling Songs (Roud 209 and 304) — both learnt in Shropshire, but not in connection with any seasonal custom there.
Jones's Ale (Roud 139) — a fine version which Ray learned in Shropshire. Note especially the verse about the ditcher, which I have not seen in any other version.
Lord Randall (Roud 10, Child 12) — again from Shropshire. Ray also said that his children learned a playground version whilst in Shropshire, called Poisoned Berries.
Wild, Wild Berry (Roud 10, Child 12) — The gem of Ray's repertoire and unique to him. Ray learnt this song, as The Death of Queen Jane from the itinerant farm labourer Harry Civil in Shropshire. The story is clearly the same as Lord Randall but reworked. It is not clear whether the song is a old revival or is the product of 19th Century re-working. Whatever the truth, the song has struck a chord with many revival folk singers on both sides of the Atlantic who are now performing it.
> Folk Music > Records > Ray Driscoll
Other records with Ray Driscoll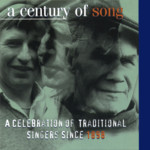 Various Artists, A Century of Song, CD, EFDSS CD02, 1998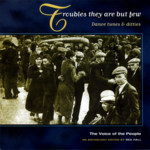 Various Artists, Troubles They Are But Few (The Voice of the People Vol. 14), CD, Topic TSCD664, 1998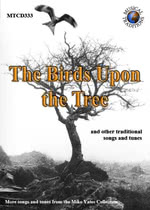 Various Artists, The Birds Upon the Tree, CD, Musical Traditions MTCD333, 2004