> English Folk Music > Joseph Taylor
Joseph Taylor
A note by Tony Rees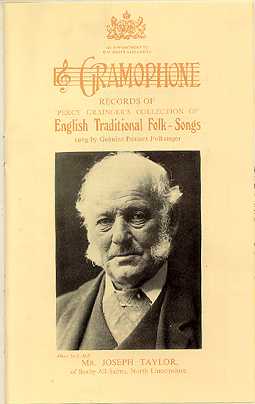 Joseph Taylor of Saxby-All Saints, Lincolnshire—b. 1832 approximately—was considered by Percy Grainger, the Australian pianist, composer and folk song collector, to be the finest folk singer that he had the opportunity to record. The two men first met in April 1905 where Percy Grainger [and collector Frank Kidson; the Unto Brigg Fair liner notes also add Lucy E. Broadwood but her diary says that she wasn't there before 1906 -rz] travelled to the small market town of Brigg in North Lincolnshire to attend a musical festival and use the opportunity to note folk songs from local singers. The organisers had included a folk song class for the first time, especially to assist the song collectors—"the prize in this class will be given to whoever can supply the best unpublished old Lincolnshire folk song or plough song … It is specially requested that the establishment of this class be brought to the notice of old people in the country who are most likely to remember this kind of song, and that they be urged to come in with the best old song they know."
Four competitors duly entered and the first prize of 10 shillings and sixpence was won by Joseph Taylor, age 72, with his song Creeping Jane; second prize (5 shillings) was won by 85-year old Mr W. Hilton of Keelby with Come All You Merry Ploughboys, while third prize (two shillings and sixpence) was carried off by Dean Robinson of Scawby with T'owd Yowe Wi' One Horn.
[Notes: Bob Thompson wrote in the Unto Brigg Fair liner notes that "there was a large list of entrants" in this competition judged by Frank Kidson. This suggests significantly more that four competitors. - rz]
Grainger noted eight other songs on that occasion, including two short verses of Brigg Fair from Joseph Taylor, being all that the singer could recall. Grainger's handwritten notation of both Creeping Jane and Brigg Fair are reproduced in the accompanying booklet to the 1972 Leader album Unto Brigg Fair, where Grainger notes that Creeping Jane was learned by Mr Taylor "when a boy of eleven from an old woman in Binbrook, Linc."
Grainger visited Brigg again in August 1905 to collect more songs, and in the meantime set several of them (including Brigg Fair) to his own arrangements for solo voices, choirs and bands. He returned again to Brigg for the 1906 music festival, this time armed with a phonograph with which to capture the nuances of the Lincolnshire folk singers in every detail, and thereby became a pioneer in the use of the phonograph to record folk singers in England—in his context, as an aid to accurate transcription of the songs, but more importantly for later listeners, as an irreplaceable historical document recording English folksingers in actual performances from the dawn of the 20th century at a time when many of them were already very old men.
Joseph Taylor was "merely" in his 70s when he recorded for Grainger. Grainger, as well as being hugely impressed with his singing, remarked that "though his age was seventy-five (in 1908), his looks were those of middle age, while his flowing, ringing tenor voice was well nigh as fresh as that of his son ... Nothing could be more refreshing than his hale countrified looks and the happy lilt of his cheery voice."
In 1907 Grainger met the composer Delius for the first time, who was enthusiastic about Grainger's folk song settings and so impressed with the tune of Brigg Fair that he requested Grainger's permission to adapt it himself for orchestra - using Grainger's own harmonies as the basis for his well-known and much loved Brigg Fair - English Rhapsody. At its first London performance in 1908 at London's Queen's Hall, Joseph Taylor was an invited guest and the story goes that he stood up proudly to sing along with "his" tune as soon as the first strain was played by the orchestra.
1908 was special for another reason, in that Grainger persuaded the Gramophone Company of London to record for the first time a "genuine peasant folk-singer" singing twelve folk songs, of which nine were issued on seven 78 rpm records (at 3/6 or 5/6 each). All but two of the songs recorded, the earliest commercial recordings of English folk song, appear again on the 1972 Leader album Unto Brigg Fair: Joseph Taylor and Other Traditional Lincolnshire Singers, along with transcriptions of twelve of Grainger's original wax cylinder recordings from 1908 of the singers Mr Thomson, Joseph Leaning, George Gouldthorpe, Joseph Taylor (again), George Wray, and Dean Robinson.
As well as producing a number of British folk-song settings over the succeeding years, in 1940 Percy Grainger published what many consider to be his finest work, A Lincolnshire Posy, arranged both for wind band and for two pianos (four hands). This suite comprises settings of five songs from his collecting expeditions in Lincolnshire in 1905-1908, being Lisbon collected from Mr Deane in the Brigg workhouse (mistitled in some versions as Dublin Bay), Horkstow Grange from George Gouldthorpe, Rufford Park Poachers from Joseph Taylor, The Brisk Young Sailor (a.k.a. A Fair Maid Walking) from Mrs. Thompson at Barrow-on-Humber, Lord Melbourne (=Lord Marlborough) from George Wray, and The Lost Lady Found, for which the tune was collected by Lucy Broadwood from her old nurse, Mrs. Hill of Stamford.
Grainger dedicated A Lincolnshire Posy to "the singers who sang so sweetly to me" and elsewhere noted his anger at "the memories of the cruel treatment meted out to folksingers as human beings (most of them died in poor-houses or in other downheartening surroundings) and at the thought of how their high gifts oftenest were allowed to perish unheard, unrecorded, and unhonoured."
Much later, the songs and singing style of Joseph Taylor and others inspired a whole new generation of folk-revival performers, from the 1960s onwards. Martin Carthy, in particular, appears to have had a fondness for Joseph Taylor's style and repertoire of songs, and has recorded fine versions of Creeping Jane, The White Hare, and other songs from the singing of Joseph Taylor. The Home Service have recorded stirring versions of both Grainger's Lincolnshire Posy and his Duke of Marlborough Fanfare on their 1986 album Alright Jack. And of course, the name of a character from George Gouldthorpe's song Horkstow Grange was adopted by one Ashley Hutchings for the name of the new, "traditional" electric folk group Steeleye Span formed shortly after leaving Fairport Convention in 1969.
All in all, Percy Grainger noted or recorded 28 songs from Joseph Taylor between 1905 and 1908, and although many of the field recordings were damaged somewhat by the mere fact of repeated playing, the 1908 recordings made for the Gramophone Company represent a treasure-trove of authentic recorded folksong. On the 1972 Leader album Unto Brigg Fair, the booklet writer says: "Mr. Joseph Taylor of Saxby-All-Saints has pride of place on this record, and with justification. He was undoubtedly the finest of the many gifted performers that Grainger recorded."
Further reading / viewing
Brigg Fair: A memoir of Joseph Taylor by his grand-daughter E. Marion Hudson, edited by Peter Collinson, 2003
John Bird, Percy Grainger, Sun Papermac, 1982.
Bob Thomson, sleeve notes to the Unto Brigg Fair album (see below).
Passion, 1999, a film directed by Peter Duncan based on events in Percy Grainger's life, includes a version of Percy Grainger's meeting with Joseph Taylor (although it occurs in 1912 in a pub nowhere near Lincolnshire).
John Roberts and Tony Barrand: sleeve notes and lyrics to the Heartoutbursts album (see below). Includes a more detailed description of Percy Grainger's folksong collecting in Lincolnshire, together with (in some cases extended) lyrics and background to 18 songs, including 8 from Joseph Taylor.
Review of Topic's "Voice of the People" series - includes discussion of various English folksingers including Percy Grainger.
Brief biography of Percy Grainger from the Australian Dictionary of Biography.
List of Percy Grainger's compositions and folk song arrangements, compiled by Barry Peter Ould, Music Archivist of the Grainger Society.
Discography
Joseph Taylor and others, Unto Brigg Fair: Joseph Taylor and Other Traditional Lincolnshire Singers Recorded in 1908 by Percy Grainger, Leader LEA4050, 1972

Produced by Bob Thomson, Bill Leader and Dave Bland.
Joseph Taylor and others, Unto Brigg Fair: Grainger, Delius, Sharp & Taylor, Folktrax FTX135, 1979

Edited by Peter Kennedy.
John Roberts and Tony Barrand, Heartoutbursts: English Folksongs collected by Percy Grainger (Golden Hind Music CD GHM103, 1998)

Includes modern performances of 18 songs collected in Lincolnshire by Percy Grainger, including 8 from Joseph Taylor.
Percy Grainger, Pleasant & Delightful: Percy Grainger Plays Folk Songs, (Larrikin LRH 456, 1999)

Includes Delius's Brigg Fair - An English Rhapsody, rearranged by Percy Grainger for four hands, and recorded by him as a piano-roll (with Ralph Leopold) in the USA, 1933.
Various Artists, Hidden English: A Celebration of English Traditional Music (Topic TSCD600, 1996)

includes Joseph Taylor: Brigg Fair and Lord Bateman
Various Artists, The Voice of the People: A Selection from the Series of Anthologies (Topic TSCD751, 1999)

Includes Joseph Taylor: Bold William Taylor
Various Artists, Come Let Us Buy the Licence: Songs of Courtship & Marriage (The Voice of the People Series Vol. 1) (Topic TSCD651, 1999)

Includes Joseph Taylor: The Gipsy's Wedding Day
Various Artists, O'er His Grave the Grass Grew Green: Tragic Ballads (The Voice of the People Series Vol. 3) (Topic TSCD653, 1999)

Includes Joseph Taylor: Worcester City
Various Artists, Tonight I'll Make You My Bride: Ballads of True and False Lovers (The Voice of the People Series Vol. 6) (Topic TSCD656, 1999)

Includes Joseph Taylor: Bold William Taylor
Various Artists, A Story I'm Just About to Tell: Local Events and National Issues (The Voice of the People Series Vol. 8) (Topic TSCD658, 1999)

Includes Joseph Taylor: Creeping Jane
Various Artists, To Catch a Fine Buck Was My Delight: Songs of Hunting & Poaching (The Voice of the People Series Vol. 18) (Topic TSCD668, 1999)

Includes Joseph Taylor: The White Hare
Acknowledgements
Thanks to Tony Rees, who wrote almost all of the page. Thanks to Irene Shettle for corrections concerning Lucy Broadwood. These and other changes are included in Tony Rees' text in brackets and marked with my initials.