> Maddy Prior > Records > A Tapestry of Carols
A Tapestry of Carols
A Tapestry of Carols
Maddy Prior with The Carnival Band

Saydisc SDL 366 (LP, UK, September 1987)
Saydisc CD-SDL 366 (CD, UK, September 1987)
Recorded at The Meeting House, Frenchay, nr. Bristol, February 1987;
Recorded and produced by Gef Lucena (Saydisc) and David Wilkins (Valley Recordings)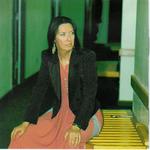 Musicians
Maddy Prior: vocals;
Bill Badley: lute, baroque guitar, guitar, gittern, banjo, mandolin, mandocello, cittern, vocals;
Andrew Davis: double bass;
Charles Fullbrook: small and medium tabors, Basel trommel, glockenspiel, small bells, woodblocks, cowbell, triangle, antique cymbals, tambourin provencal, vocals;
Giles Lewin: violin, recorders, vocals;
Andrew Watts: Flemish bagpipes, bassoon (c. 1815), curtal, clarinet in C, recorders, shawms, vocals
Tracks
All titles arranged by Andrew Watts except [9] arranged by Andrew Watts and Giles Lewin
Sleeve Notes
The Carnival Band was formed in 1984 to perform popular medieval, renaissance and traditional music, not in an 'authentic way' but on a mixture of old and modern instruments. The musical background of the five players encompass folk, early music, classical and contemporary music. Their repertoire ranges from Bolivian carnival tunes to Yugoslav dances and Renaissance theatre songs, the only common thread being the spirit of Carnival. Out of this melting pot comes a style full of energy, a sense of fun and immediate rapport with the audience.
A few months after its formation, producer John Forrest asked the Carnival Band to accompany Maddy Prior in a recording of Christmas Carols for BBC 2. The recording was made in Scotby village hall near Carlisle, with Maddy appropriate enough expecting a child. In spite of interruptions from a village cat and friendly neighbours, the recording was a success. The performers went their separate ways, but the magic of the carols had begun to work on them. A little over two years later they met again in similar circumstances—this time an eighteenth century Quaker Meeting House near Bristol—to make this record.
It comes as a surprise to discover that many of our 'traditional English carols' are neither traditional nor English in origin. Less than half the songs on this record fall into that category. Of the others, some are translations of Christmas songs from other European countries and some are tunes which originally had nothing to do with Christmas but were appropriated by nineteenth century hymn-writers. Ding Dong Merrily On High, a dance tune, is a good example. Nevertheless they have won an unrivalled place in our affections because like the best of all popular culture the words and tunes have a freshness and vitality with speak directly to us.
In making this record, Maddy Prior and The Carnival Band deliberately shut out all memories of cathedral choirs, brass bands, and supermarket jingles. We took the tunes and words just as we would any other song and allowed them to dictate the style, speed, harmonies and instrumentation. The result surprised us.
Of course our own experience and backgrounds affected the arrangements and we have taken liberties too. These are not authentic versions. Somewhere along the line Angels From the Realms of Glory got changed from a French folk tune into a mixture of Cajun fiddle and New Orleans marching band, but we have always tried to follow the spirit of the original. In this way we trust we have been true to the carols and to the meaning of Christmas.
Now the Holly Bears a Berry (The Sans Day Carol)
Cornish trad.
Flemish bagpipes, violin, mandolin, bass, tambourin provencal
In Dulci Jubilo
German 14th century, trans. R.L. Pearsall
recorders, lute, antique cymbals
God Rest You Merry, Gentlemen
English trad.
violin, baroque guitar, bassoon, bass, Basel trommel
It Came Upon the Midnight Clear
Tune English trad., Words E. H. Sears 1810-76
recorder, cittern, curtal, small bells
The Holly and the Ivy
English trad.
recorder, cittern, curtal, small bells
Ding Dong Merrily on High (Branle de l'Officiel)
Words: G. R. Woodward (1848-1934), Tune: Thoinot Arbeau (1520-95)
recorder, violin, lute, bass, glockenspiel
The Angel Gabriel (Birjina gaztettobat zegoen)
Tune Basque trad., Words S. Baring-Gould 1834-1924
bass
The angel Gabriel from heaven came
His wings a drifted snow, his eyes a flame
"All hail," said he, "thou lowly maiden Mary"
Most highly favoured lady! Gloria!
"For known a blessed Mother thou shalt be;
All generations laud an honour thee:
Thy son shall be Emmanuel, by seers foretold"
Most highly favoured lady! Gloria!
Then gentle Mary meekly bowed her head;
"To me be as it pleaseth God!" she said.
"My soul shall laud and magnify His holy name."
Most highly favoured lady! Gloria!
Of her Emmanuel, the Christ, was born,
In Bethlehem, all on a Christmas morn;
And Christian folk throughout the world will ever say:
Most highly favoured lady! Gloria!
Angels From the Realms of Glory (Les anges dans nos campagnes)
Tune French trad., Words J. Montgomery
violin, clarinet in C, guitar, bass, triangle, large tabor
Infant Holy (W zlobie Lezy)
Polish trad.
mandocello, bass
Infant holy,
Infant lowly,
For his bed a cattle stall;
Oxen lowing,
Little knowing,
Christ the babe is Lord of all.
Swift are winging,
Angels singing,
Nowells ringing,
Tidings bringing,
Christ the babe is Lord of all,
Christ the babe is Lord of all.
Flocks were speeping,
Shepherds keeping
Vigil till the morning new
Saw the glory.
Heard the story,
Tidings of a gospel true,
Thus rejoicing
Free from sorrow,
Praises voicing,
Greet the morrow,
Christ the babe was born for you!
Christ the babe was born for you!
A Virgin Most Pure
English trad.
recorder, violin, lute, bass
Unto Us a Boy Is Born (Puer nobis nascitur / Uns ist geboren ein Kindelein)
German medieval
recorders, gittern, glockenspiel
Unto us a boy is born!
King of all creation
Came he to a world forlorn,
The Lord of every nation.
Cradled in a stall was he
With sleepy cows and asses;
But the very beast could see
That he all men surpasses.
Herod the with fear was filled:
"A prince," he said, "in Jewry!"
All the little boys he killed
At Bethelehem in his fury.
Now may Mary's son, who came
So long ago to love us,
Lead us all with hearts aflame
Unto the joys above us.
Omega and Alpha he!
Let the organ thunder,
While the choir with peals of glee
Doth render the air assunder.
Rejoice and Be Merry (The Gallery Carol)
English trad.
violin, clarinet in C, banjo, bass, side drum, wood block, cowbell
Joseph Dearest (Joseph, lieber Joseph mein)
German 16th cent.
recorder, bassoon, lute, bass
Personent Hodie
German 14th cent. and Piae Cantiones 1582
shawm, recorder, mandocello, bass, medium tabor
On Christmas Night (The Sussex Carol)
English trad.
Flemish bagpipes, violin, mandolin, bass, tambourine