> Folk Music > Songs > The Squire's Daughter
The Squire's Daughter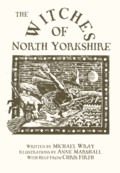 [trad. / Fay Hield arr. The Witches of Elswick]
The Witches of Elswick sang The Squire's Daughter in 2005 on their second and last album, Hell's Belles. They commented in their liner notes:
This song was inspired by the traditional story of Mad Annie of Goathland as told in Michael Wray's book The Witches of North Yorkshire. The accompaniment hit Becky as a flash of inspiration in the car one day. She was dum dum da diddling all the way from Newcastle to Carlisle.
Lyrics
The Witches of Elswick sing The Squire's Daughter
In Goathland town in North Yorkshire
There lived a righteous and noble squire.
His daughter loved a labouring boy
Which left his poor heart in need of joy.
In his grand hall he held a ball,
Invited chiefs, earls and nobles all.
His daughter showed such little interest
For she loved her labouring boy the best.
"I must endeavour to find a way
To stop my daughter from going astray."
So in the dead hour of the night
Unto Mad Annie's he made his flight.
Three times he's knocked on the witch's door.
"Come in, come in," the old woman did roar,
"I have the potion that you desire."
And she gave the bottle unto the squire.
His daughter drank one sip of wine
And straight to bed she did incline.
He could not wake her the whole day long;
He sent for doctors, he could do no more.
The news spread fast, they rang the bell,
"The squire's daughter is under a spell!"
The news spread to her own labouring boy
Who went for the wiseman for to employ.
"Wiseman, oh wiseman, come tell me please
How can I cure her of this sleeping disease?"
"The only thing that will do her good
Get her holy water with witch's blood."
The clock struck twelve in the dead of night,
O'er the fields ran a hare, snow white.
He raised his gun, his shot was good,
Smeared over the grass was the witch's blood.
To the squire's hall he quickly sped
And crept to the room of this fair young maid.
He gave her water all mixed with blood
And from her sleep woke his own true love.
From her father's hall this couple sped
And in the City of York will wed.
So fathers, come take a warning from me:
Never fix young girls, you just let them be.
Acknowledgements
Thank you very much to Garry Gillard for help with the lyrics.