> Martin Carthy > Biography
Martin Carthy Biography
The most comprehensive notes about Martin Carthy's life and career are in the The Carthy Chronicles box set, but not on the Web.
---
Martin Carthy was born on 21 May 1941, Hatfield, Hertfordshire, England.
He began his career as an actor but in 1959 became a skiffle guitarist and singer with the Thameside Four. The three 'Thamesiders' whom Martin joined to make the Thameside Four were Redd Sullivan, Pete Maynard and Marian Gray. (Pete Maynard and Marian Gray worked as a duo under the title Pete and Marian Gray which is an unusual example (for the period) of husband and wife using the wife's name.)
Martin was active around that time on a TV programme called Hallelujah! with Sydney Carter and Nadia Cattouse amongst others in a sort of ad hoc group. There were some recordings from this time but they were not a "working" band.
Martin made his first solo recording on the collection Hootenanny in London (1963), singing Your Baby 'as Gone Down the Plug Hole, later revived by Cream. Martin also sang With the End of Me Old Cigar in a duet with Redd Sullivan, and Girls. By now, Martin Carthy was recognised (not because of songs like that) as a virtuoso folk guitarist and was resident at London's top folk club, the Troubadour. There he taught songs to visiting Americans including Bob Dylan and Paul Simon who adapted Lord Franklin and Scarborough Fair for their own records.
With Leon Rosselson, Carthy recorded as the Three City Four (first album released 1965) before making his first album, Martin Carthy for Fontana (also released 1965). He recorded this and his Second Album with Dave Swarbrick, with whom Carthy was touring the folk clubs. It was not before Byker Hill that both got equal billing for their duo records.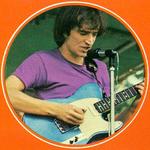 From 1969-72, he was a member of the folk-rock band Steeleye Span with whom he first played electric guitar; see the photo from the sleeve of Ten Man Mop (1971)
In 1972, Martin Carthy married Norma Waterson and joined her more traditional vocal group, The Watersons. They have one child, Eliza Carthy, who is an outstanding artist of her owm.
In the 80s he toured and recorded with Brass Monkey, a band formed by John Kirkpatrick. Carthy also took part in concept albums by the Albion Country Band (1972) and in The Transports, the 'folk opera' created by Peter Bellamy.
Essentially, though, Carthy is at his best as a soloist or in partnership with Swarbrick with whom he toured again in 1989 and recorded the live Life and Limb.
In 1998 Martin was awarded an MBE for his services to English folk music.
Acknowledgements
Thanks to Kevin Sheils for much of the above.