> Sandy Denny > Biography
Sandy Denny: A Short Biography

For further information see the books listed in the Sandy Denny bibliography.
---
Alexandra Elene MacLean ("Sandy") Denny was born in London on January 6, 1947, and grew up in Wimbledon. She began playing piano and guitar at an early age and sang in her school choir, although she didn't originally intend to be a singer.
Sandy studied nursing for a year, but then left college to pursue a career as a folk singer, singing in pubs and clubs around England in the mid 1960's. She was invited to sing on a BBC radio broadcast and this led to a record deal with Saga Records (The Original Sandy Denny). Soon afterwards, she met Dave Cousins, who was preparing the first Strawbs record. He asked her to join the group, and soon after her acceptance she recorded All Our Own Work with them in Copenhagen.
In 1968, prior to the release of the Strawbs' record, Sandy was invited to replace Judy Dyble in Fairport Convention. Her lively and boisterous personality had an immediate effect on the quiet Fairports; her singing and songwriting added a new dimension to their sound and she spurred particularly Richard Thompson into a more adventurous and unique style of playing and writing. Sandy recorded four albums with Fairport at this time: What We Did on Our Holidays, Unhalfbricking and Liege and Lief were studio albums, and Heyday is a collection of radio broadcasts.
Towards the end of 1969, Sandy left Fairport and formed a new group called Fotheringay with her husband-to-be Trevor Lucas. This group made only one LP, Fotheringay, and broke up towards the end of 1970.
Sandy then spent the next three years recording and appearing as a solo artist. She made three albums in this period, and was voted twice to be Britain's best female singer by "Melody Maker", in 1971 and 1972. The albums were The North Star Grassman and the Ravens, Sandy and Like an Old Fashioned Waltz. Live studio tracks recorded for the BBC from that time were later released on The BBC Sessions 1971-73.
On September 20, 1973, Sandy married Trevor Lucas and during 1974, she started appearing again with Fairport Convention, which now included him amongst its ranks. Some of her appearances were released on Fairport Convention's Live album and in 1975 she contributed greatly towards the Rising for the Moon album.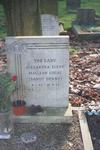 After this, Sandy once again left Fairport, and recorded one more solo album, Rendezvous, in 1977. After the minimal success of this record, she began planning to move to America with Trevor and their baby Georgia (born in July 1977) to start a new career.
On April 18, 1978, whilst at a friend's house, Sandy suffered a brain haemorrhage and went immediately into a coma, from which she never recovered. She died on April 21, 1978, aged 31, and was buried in Putney Vale Cemetery.
Her last concert on November 27, 1977 at the Royalty Theatre was later released as Gold Dust - Live at the Royalty. Further posthumous releases were the four cassettes and one CD, The Attic Tracks.