> The Watersons > Biography
Biography of the Watersons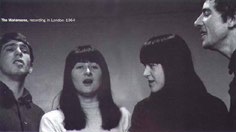 John Harrison, Norma, Lal, Mike Waterson
(Photography thanks to Brian Shuel)
Originally, the Watersons were siblings Norma, Michael (Mike) and Elaine (Lal) Waterson, with their second cousin John Harrison. They come from Hull and the three, orphaned early, were brought up by their grandmother, a second-hand dealer. They're partly of Irish gipsy descent. Like thousands of others they came to folk song through an early interest in jazz and skiffle. They formed a group called The Mariners and played for a while in a coffee-house. Then, as their style became progressively less 'popped-up', more serious, they decided to start a folk song club calling themselves The Folksons before finally using their family name. They had a wide repertory but their abiding interest was in the songs and customs of their native East Yorkshire. They were renowned for their performances of traditional songs while retaining the freshness in the arrangement of the individual vocal lines.
The Watersons' first recording were for the Topic Records sampler New Voices and their first album, Frost and Fire, both from 1965. From the same time is Derrick Knights film Travelling for a Living.
After two more records in 1966, The Watersons and A Yorkshire Garland, Johh Harrison left the group in the same year, moving to London. The Watersons split up in 1968, with Norma going to work as a DJ in a radio station in the West Indies, and came together again four years later. John is replaced firstly by Bernie Vickers and then by Martin Carthy, who joined the reformed Watersons in 1972 and made a permanent family commitment in marrying Norma in the same year.
In the meantime, both Mike and Lal found themselves writing contemporary songs, which were recorded by Bill Leader for the remarkable album Bright Phoebus (1972) with a whole bunch of the finest musicians of the English Folk scene: from one of the best regarded unaccompanied groups to the definitive contemporary folk rock!
The last three Watersons recordings, For Pence and Spicy Ale (1975), Sound, Sound Your Instruments of Joy (1977), and Green Fields (1981) all feature Mike, Lal, and Norma Waterson and Martin Carthy. In 1977, male and females go separate ways for the duo album A True Hearted Girl (Lal & Norma Waterson), and the solo Mike Waterson.
After 1981, there was a long silence, and when the next new family recording came out, they were no longer the Watersons. Mike and Lal have both given up touring but joined the No Masters musical co-operative originally formed by John Tams and Jim Boyes in 1990. The remaining two have become three, with Norma and Martin's daughter Eliza recording with her parents as Waterson:Carthy, with their CD Waterson:Carthy coming out in 1994 and Common Tongue in 1996. It is these three (plus Saul Rose) we see in the Ken Russell film In Search of English Folk Music, dir. (and starring!) Ken Russell, 1998.
In 1996, both Norma and Lal released new albums, the solo Norma Waterson with songs by the best contemporary writers, and Once in a Blue Moon, which shows the strength of the songwriting of Lal and her son Oliver Knight.
Lal Waterson passed away Friday 4 September 1998 at home in Robin Hood's Bay, Yorkshire. Her last album with her son, A Bed of Roses, was finished by Oliver Knight alone and released posthumously in 1999. Obituaries in London broadsheets provide information, not only about Lal, but also about the family generally:
Both Norma Waterson and Waterson:Carthy continue to record up to today; Norma solo with The Very Thought of You (1999) and Bright Shiny Morning (2000) and Waterson:Carthy with Broken Ground (1999), A Dark Light (2002), Fishes & Fine Yellow Sand (2004), and Holy Heathens and the Old Green Man (2006). Norma and Mike Waterson with Martin and Eliza Carthy work also with Barry Coope, Jim Boyes and Lester Simpson of the vocal trio Coope Boyes & Simpson under the name "Blue Murder", a project starting in 1986 of which the first years are documented by a few tracks on anthologies only. However, in 2002 they recorded their first CD, No One Stands Alone. The sleeve notes of this album give a detailed history of Blue Murder, so we don't have to repeat it here.
Both Martin Carthy and Norma Waterson were awarded the MBE.
Mike Waterson died on Wednesday 22 June 2011.
Norma Waterson died on Sunday 30 January 2022.
Who is Who?
Norma Waterson (15.01.1939-30.01.2022)

Sister of Lal and Mike Waterson; member of the Watersons, the Waterdaughters, Waterson:Carthy and Blue Murder

Mike Waterson (17.01.1941-22.06.2011)

Brother of Lal and Norma Waterson; member of the Watersons and Blue Murder

Elaine (Lal) Waterson (15.02.1943-04.09.1998)

Sister of Mike and Norma Waterson; member of the Watersons, the Waterdaughters and Blue Murder

John Harrison

Second cousin to Lal, Mike and Norma Waterson; member of the Watersons until 1966

Bernie Vickers

Member of the Watersons in 1972

Martin Carthy (born 21.05.1941)

Husband of Norma Waterson; member of the Watersons since 1972 and of Waterson:Carthy

Eliza Carthy (born 23.08.1975)

Daughter of Norma Waterson and Martin Carthy; member of Waterson:Carthy, the Waterdaughters and Blue Murder since 1994

Florence Daisy Carthy (born 24.12.2008)

Eliza's first daughter

Isabella Mary Carthy (born 26.11.2010)

Eliza's second daughter

Lucy Carthy

Daughter of Norma Waterson and Martin Carthy; married to Saul Rose

Saul Rose

Husband of Lucy Carthy and member of Waterson:Carthy from 1996 until 2000 and again since 2007
Not related to the Watersons; member of Waterson:Carthy from 2000 until May 2007

Marry Waterson (Maria Gilhooley)

Daughter of Lal Waterson and George Knight; member of the Waterdaughters

Oliver Knight (born 1969)

Son of Lal Waterson and George Knight; record producer and guitar player

Rachel Straw

Daughter of Mike and Ann Waterson; member of Blue Murder I

Sarah Waterson

Daughter of Mike and Ann Waterson

Eleanor Waterson

Youngest daughter of Mike and Ann Waterson; sings on some of Eliza's and Waterson:Carthy's albums

Chris Collins

Mike's sister-in-law; she wrote some songs together with Lal and Mike