> Mike Waterson > Songs > Rubber Band
Rubber Band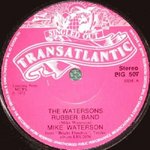 [Mike Waterson]
Mike, Lal and Norma Waterson, Tim Hart and Maddy Prior sang Mike Waterson's song Rubber Band in 1972 on his and Lal's album Bright Phoebus. It was also released as a single (Transatlantic BIG 507, 1972) with the B-side Red Wine and Promises. The other musicians on this recording were:
Sammy Rimmington: clarinet;
Dennis Field: cornet;
Keith Nicholls: trombone;
Richard Thompson: rhythm guitar;
Tim Hart: tambourine;
Ashley Hutchings: bass guitar;
Dave Mattacks: drums;
Richard Gold: rubber band;
Bill Leader: jew's harps.
In 2002, Mike Waterson re-recorded Rubber Band with Blue Murder (Waterson:Carthy, Mike Waterson, Coope Boyes & Simpson) for their album No One Stands Alone.
Cover Versions
Fairport Convention on their single Rubber Band / Bonny Black Hare Farewell, Farewell (1991) and on the CD Encore Encore (1997).
Lyrics
Mike Watersons sings Rubber Band
Chorus (after each verse):
I'm the leader of the rubber band
It's the finest band in all the land
Isn't it grand being the only band in the land
To play rubber band.
Just like margarine our fame is spreading
And our rise to stardom won't be slow.
If we stretch our members to the limit,
I'd like to see how far the band could go.
We're the band to catapult to stardom,
We'll never get wound up, we're never slack.
You'll never keep us down, you'll never throw us,
'cause we're the band that keeps on bouncing back.