> Martin Carthy > The Carthy Chronicles Quiz
The Carthy Chronicles Quiz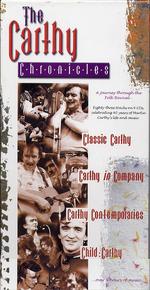 Free Reed did a quiz to celebrate the release of The Carthy Chronicles on 1 April 2001 where one could win free copies of this fantastic box set. The winners have long been drawn and you can't compete any more, but if you want to check your knowledge, you can still try here. You were supposed to find the answers in the Carthy Chronicles booklet but if you don't want to search hard, you can find the answers below after the questions.
The Questions
Which tune has Martin released four times in different versions?
What tune in Martin's repertoire was also recorded by Winifred Atwell and Hank Marvin?
Who were the jazz band featured on the third Waterson:Carthy CD?
In which year did Martin marry Norma Waterson?
How many albums did Martin record with Steeleye Span?
For which Peter Bellamy CD did Martin provide the sleeve notes?
What part did Martin perform in Bellamy's ballad opera The Transports?
What was the first album which Martin played upon with John Kirkpatrick?
What name was being considered for Brass Monkey, until it was used by one of Martin's fellow musicians?
What part did Martin play on the Lark Rise to Candleford album?
What roles did he play in the stage version of Lark Rise?
On which group's live 25th anniversary albums does he appear?
On which album is he part of a chorus singing Danny Boy?
Which Bob Dylan album mentions Martin by name in the sleeve-notes?
For which Topic anthology of source singers did Martin provide much of the sleeve-note material?
On which label were Martin's first four albums originally released?
Which Albion Band track uses a one-note sample of Martin's voice?
As part of which group did Martin make his recording debut?
Which member of the band provided lead vocal on Steeleye Span's version of Skewbald?
Within which ballad did Martin find Steeleye Span's name?
Answers to the Questions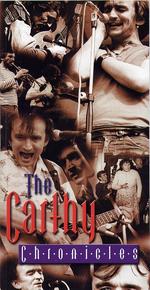 I've added references to the Carthy Chronicles booklet and the The First Sixty Years booklet in case the answers aren't easily found in the discography on this website.
Sovay (on Martin Carthy Brass Monkey (1983), Life and Limb (1990), Both Ears and the Tail (2000)) with Byker Hill (fourth version in 2003 only) and Skewbald (with two relatively unknown live versions) as strong contenders.
Anton Karas' Harry Lime Theme from The Third Man [Chronicles, p. 63]
The Phoenix New Orleans Parade Band on The Bald Headed End of the Broom
1970 [Chronicles, p. 30]
5 if you don't count numerous "Best of" albums: Please to See the King (1971), Ten Man Mop (1971), Storm Force Ten (1977), Live at Last (1978), The Journey (1999)
The 1992 CD-reissue of Peter Bellamy's Both Sides Then contained an obituary by Martin Carthy.
John Simpson, the Humane Turnkey
Roy Bailey: Roy Bailey (1971) [Chronicles, p. 44]
The name "Whippersnapper" had already been taken by Dave Swarbrick [The First Sixty Years, p. 6]
Mr Pridham and Sam [Chronicles, p. 42]
Thomas Brown, Postman
Steeleye Span: The Journey (1999)
Fairport Convention: The Cropredy Box (1998)
The Freewheelin' Bob Dylan. The melody of Bob Dylan's Dream is based upon Martin Carthy's Lord Franklin [Chronicles, p.42]
Hidden English (1996) has sleeve notes by Rod Stradling and Martin Carthy
Fontana
Gresford Disaster on Rise Up Like the Sun (1996)
The Thamesiders on The Thamesiders and Davey Graham (1963)
Tim Hart sang Skewball on Ten Man Mop (1971)
The song Horkstow Grange features a character J.S. "Old Steeleye" Span.
Acknowledgements
Thanks to Nigel Schofield for help with the really difficult questions