> Steeleye Span > Records > Now We Are Six
Steeleye Span: Now We Are Six
Now We Are Six
Steeleye Span

Chrysalis CHR 1053 (LP, UK, March 1974)
Chrysalis CHR 1053 (LP, Canada, 1974)
Chrysalis/Festival L 35100 (LP, Australia, 1974)
Chrysalis/Phonogram 6307 529 (LP, Germany, 1974)
Chrysalis CCD 1053 (CD, Japan, 19??)
Shanachie 79060 (CD, USA, 1991)
BGO Records BGOCD 157 (CD, AAD, UK, December 1992)
▼ show all details
▲ hide all details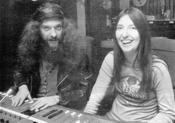 Production Consultant: Ian Anderson;
Recorded by Robin Black at Morgan Studios, London, December 1973 and January 1974;
Mastered by Robert Vosgien, CMS Digital, California (Shanachie)
Remastered at Sound Recording Technology, Cambridge 1992 (BGO)
Musicians
Maddy Prior: vocals;
Tim Hart: acoustic guitar, vocals, electric dulcimer, banjo;
Peter Knight: vocals, violin, acoustic guitar, piano, tenor banjo, mandolin;
Robert Johnson: electric and acoustic guitar, vocals, synthesiser;
Rick Kemp: bass, vocals;
Nigel Pegrum: drums, recorder, oboe, flute, tambourine
The St. Eleye Primary School Junior Choir, vocals on Now We Are Six and Twinkle, Twinkle, Little Star;
David Bowie, alto sax on To Know Him Is to Love Him
Tracks
There are different track listings on the several issues. Some of them have the short (single) version of Thomas the Rhymer running 3.14, some have the long (LP) version which takes 6.44.
Thanks to Michael Newbury for sorting the things out!
Version 1a: Chrysalis UK Sleeve Notes
The Chrysalis UK LP's sleeve notes list the tracks in this order:
Side 1
Side 2
Version 1b: Chrysalis UK Album
On the actual record, Edwin is on the second side of the album to leave space for the long version of Thomas the Rhymer (Roud 219; Child 37):
Side 1
Side 2
Version 2a: Chrysalis International Sleeve Notes
The international (Australian, Canadian and German) versions of the Chrysalis LP and the Chrysalis CD have the single version of Thomas the Rhymer. They list this track order on the album sleeve …:
Side 1
Side 2
Version 2a: Chrysalis International Album
…but tracks 8 and 9 are swapped on the actual disk:
Side 1
Side 2
Version 3: Shanachie CD
The Shanachie CD has the single version of Thomas the Rhymer too and yet another track order:
Version 4: BGO CD
Finally, the BGO CD features the original track listing (1a) that the Chrysalis LP claimed to have, and the long (LP) version of Thomas the Rhymer:
Comment
Recorded at Morgan Studios, Willesden, London, December '73 and January '74. Produced by Steeleye Span and Robin Black, mixed by Jethro Tull's Ian Anderson. The title was a clever reminder that this was the sixth album and the band now had six members—Nigel had just joined. Davie Bowie was superstar guest artiste and played saxophone on To Know Him Is to Love Him. It was his first session helping out another band "and he was very shy". Apart from this, the outstanding tracks were Thomas the Rhymer and Seven Hundred Elves, both with music from Bob Johnson sounding heavier and more amplified than the band had been before. In contrast, there were two songs showing Maddy's whimsical sense of humour. For Now We Are Six, a set of medieval riddles, and the nursery rhyme Twinkle, Twinkle, Little Star, the St. Eleye Primary School Junior Choir took over. The male members of the band rolled up their trousers in the studio and sang falsetto, while Peter—described on the sleeve as "Miss Knight"—played piano.
Tim Hart, Robin Denselow: The Complete Steeleye Span, 1978
Review (in German)
Altes, wiederentdecktes englisches Volksliedgut. Tragische Liebe bildet meist das Thema. Durch biedere Schlagzeug-Begleitung scheinbar neu aufgemöbelt. Oder durch kurze, eingeschobene Black Sabbath-Plagiate. Zwei Balladen aus der Märchenwelt. Ein fröhlich-swingender irischer Tanz. Zwei Kinderlieder. Vorgetragen vom Juniorenchor der Volksschule zu St. Eleye. Einmal begleitet Fräulein Knight auf dem Pianoforte. Zum Abschluss eine nostalgische Rock'n'Roll-Schnulze. Stargast David Bowie fistelt dazu dünn, schmalbrüstig, ungelenk und "mit freundlicher Genehmigung von RCA Records" auf dem Altsaxophon. Ian Anderson (von Jethro Tull) zeichnet als beratender Produzent.
Das alles auf einer Platte. Und zusammenpassen soll's auch noch. Wer ist's? Nein, es handelt sich nicht um eine neue Wohltätigkeitsplatte zugunsten von Sorgenkindern und der durch Materialkrise angeblich so getroffenen Plattenindustrie. Vielmehr ist es tatsächlich Steeleye Span, die dieses Potpourri auf Platte verewigt.
Der Titel sagt's: nun sind sie sechs. Nigel Pegrum, zuvor Mitglied von Gnidrolog, bedient seit knapp einem Jahr die Drums der ehemaligen Splittergruppe von Fairport Convention. Inzwischen hat Steeleye Span unter Jo Lustigs Fittichen ihre Stammgruppe an Popularität weit überflügelt, vermag die riesige Royal Albert Hall rappelvoll zu packen und landete mit diesem neuen und sechsten Album sogar in den britischen Top 20.
Doch beides – das Hinzunehmen eines Schlagzeugers und das auf Hitparaden-Lorbeeren trimmende Management – haben musikalisch gesehen Rückschritte zur Folge.
Am wenigsten ist das noch bei der irischen Jig der Fall, dem vielleicht abgerundetsten Stück der Platte. Für Phil Spectors To Know Him Is to Love Him ist ein Schlagzeuger natürlich unentbehrlich. Doch während dieser Rock'n'Roll "live" gerade nach so urenglischem Material als Parodie der Rückbesinnung auf die schmalzlockigen 50er Jahre verstanden wird, klingt er auf der Platte, ohne die im Konzert sichtbaren Verkleidungskünste der Musiker, schlaff und gerade so, als ob er ernst genommen werden wollte.
Dieses Stück deutet ebenso wie die beiden erwähnten Kinderlieder darauf hin, dass Steeleye Span unter Produktionszwang steht. So bleiben auf dieser LP nur sechs Nummern, die wie fast ihr gesamtes altes Material aus der Schatztruhe der englischen Folklore stammen: Diese haben folgende Themen: tragische Liebe (Long A-Growing und Edwin) und Elfenland (Seven Hundred Elves und Two Magicians) jeweils zweimal; einmal Kindesentführung (Drink Down the Moon) und schließlich eine kommerziell verrockte Kinderballade (Thomas the Rhymer). Das heißt: Musste sich Steeleye Span früher den Vorwurf gefallen lassen, zu häufig Ritter, Festgelage und Zwerge zu besingen, so weicht die Gruppe nun, statt sich dem populären "Helden" des Volksliedes, dem Mann auf der Straße zuzuwenden, aus - mit Liebesgeschichten und verzückter Märchenwelt.
Die neue Platte enttäuscht. Und zwar gerade, weil sie im Kontrast zu dem Vorläufer-Album Parcel of Rogues stark abfällt. Da dieses, als es Mitte letzten Jahres herauskam, nicht in Sounds besprochen wurde, sei hiermit im Nachhinein darauf hingewiesen, zumal es jetzt, nachdem sich Steeleye Spans Abstieg ins Hitparaden-Lager abzuzeichen beginnt, wohl als perfektestes Album in die Annalen dieser Gruppe eingehen wird. Zwar ist auch hier Kritik an der Textauswahl angebracht, doch dafür wird diese durch die Musik mehr als aufgewogen. Hier gelang die Symbiose von Folk und Rock höchst eindrucksvoll. Deftige Dorf-Lyrik und die feinen Folklore-Melodien wurden mit zeitgemäßen Mitteln popularisiert als als wertvolles Stück Sozialgeschichte leichter zugänglich gemacht. Dafür braucht man keinen Bowie und auch keinen Anderson.
Wer Steeleye Span erst mit einer dieser Platten entdeckt und sich nun auch für ihre Frühwerke interessiert, sollte sich über einen Import-Dienst aus England Almanack besorgen. Auf dieser preiswerten Platte sind einige der besten Nummern aus den ersten drei LPs neu zusammengestellt.
Andreas Roßmann, Sounds, 1974
> Steeleye Span > Records > Now We Are Six Again
Steeleye Span: Now We Are Six Again
Now We Are Six Again
Steeleye Span

Park Records PRK CD113 (2 CD, UK, 14 November 2011)
▼ show all details
▲ hide all details
Steeleye Span celebrate their new line up with a live re-recording of their famous sixth album, Now We Are Six. Both it and the tracks on the bonus CD were recorded live on Steeleye Span's spring tour 2011.
Musicians
Maddy Prior: vocals;
Peter Knight: violin, keyboards, vocals;
Rick Kemp: bass, vocals;
Liam Genockey: drums, percussion;
Julian Littman: electric guitars, vocals;
Pete Zorn: acoustic guitar, mandolin, saxophone, vocals
Tracks
CD 1: Now We Are Six Live
CD 2: Bonus CD
All tracks trad. except
Track 10 Phil Spector;
Track 12 Steeleye Span