> Waterson:Carthy > Songs > The Holland Handkerchief
The Suffolk Miracle / The Holland Handkerchief / The Lover's Ghost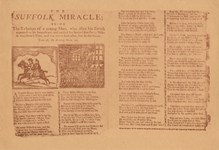 [ Roud 246 ; Master title: The Suffolk Miracle ; Child 272 ; Henry H217 ; Ballad Index C272 ; HollandHand at Old Songs ; VWML AW/2/63 ; Bodleian Roud 246 ; GlosTrad Roud 246 ; Wiltshire 164 ; trad.]
John Goodluck sang The Suffolk Miracle as the title track of his 1975 Traditional Sound album, The Suffolk Miracle. The album's sleeve notes commented:
Another melodramatic tale, this time from a broadsheet first published in 1711. It tells the story of a young man who, having died of a broken heart at being separated from his true love, returns to ride through the night with her on her father's horse—and provides concrete proof of the unlikely phenomenon. As far as we know, no one has yet had the temerity to record the fill twenty-eight verse epic—and John foiled our attempt by slashing it to twenty-six!
Packie Manus Byrne sang The Holland Handkerchief on his 1975 Topic album Songs of a Donegal Man. This track was also included on the 1998 Topic anthology O'er His Grave the Grass Grew Green (The Voice of the People Series Volume 3). Mike Yates noted on the original album:
Professor Child called this ballad The Suffolk Miracle and reluctantly admitted it to his collection with this comment, "l have printed this ballad because, in a blurred, enfeebled, and disfigured shape, it is representative in England of one of the most remarkable tales and one of the most impressive and beautiful ballads of the European continent." The story seems to have originated in Southeast Europe—perhaps Greece—and to have drifted all over Europe, both as tale and ballad. A romantic 18th century re-working of it, in G.A. Burger's Lenore, gave extra impetus to its spread. The ballad, which has been collected in its entirety as a folk-tale in the west of England, was printed by several 17th century broadside printers in London and today, usually under the title The Holland Handkerchief, is met with not infrequently in Ireland, particularly in those parts that were on the itinerary of a couple of influential wandering minstrels and casual labourers of the mid-nineteenth century, Andy and Tommy Hearn (according to the American folklorist Phillips). Packie's brooding tune fits the ballad well—far better than the tune of McCafferty which many singers use—and he had it as a boy from his cousins, the Gallagher brothers, who lived in Meenacahan, County Donegal.
Nora Cleary sang The Holland Handkerchief at home in The Hand, Doonogan, Co Clare, on 10 July 1975 to Tom Munnelly. This recording was included in 1985 on the Folk Music Society of Ireland anthology Early Ballads in Ireland 1968-1985, reissued on CD in 2015 by An Goílín.
Tom Lenihan sang The Holland Handkerchief on his 1978 Topic album of songs traditional in West Clare, Paddy's Panacea.
Ken Hall sang The Holland Handkerchief, "a ghost story with a moral for over zealous parents", in 2000 on his and Peta Webb's Fellside CD As Close As Can Be.
Norma Waterson sang The Holland Handkerchief in 2002 on Waterson:Carthy's fourth album, A Dark Light. Martin Carthy noted:
Packie Manus Byrne appeared on the English music scene in the early 1960s and quickly made his mark. He is a canny man. Because he never paraded his knowledge many people took him far too lightly far too easily, but a treasure house is what he was. And, indeed, is. The musical sweep of his knowledge is colossal, and he is also generous. It is from him that Norma learned The Holland Handkerchief, one of the truly spooky songs and one not found that often these days.
Jim Moray sang The Suffolk Miracle in 2003 on his CD Sweet England.
Kerfuffle learned Holland Handkerchief from the singing of Norma Waterson and recorded it in 2004 for their second album, K2.
Benji Kirkpatrick sang The Holland Handkerchief in 2004 on his Fellside album Half a Fruit Pie.
Rosie Hood sang this ballad as Lover's Ghost on her eponymous 2011 EP, Rosie Hood, and on her 2017 RootBeat CD The Beautiful & the Actual. She noted:
A variation of Holland Handkerchief, collected from Richard May, Fairford, by Alfred Williams [and to be found in the Alfred Williams manuscripts stored at the Wiltshire and Swindon History Centre]. "This curious piece I discovered at Fairford. I have nowhere else heard it. It is of great age, and I have no doubt that by reason of the nature of the narrative, it was welcomed by the rustics."

The melody is based on Packie Manus Byrne's Holland Handkerchief from The Voice of the People 3.
This video shows Rosie Hood at the end of 2018, ccompanied by her new trio partners Nicola Beazley on fiddle and Lucy Huzzard on melodeon:
Chris Foster sang The Holland Handkerchief on his 2017 CD Hadelin. He noted:
I found this song after my friend Rósa Þorsteinsdóttir told me that the well-known Icelandic song Djákninn frá Myrká is a version of the story found in the English ballad The Suffolk Miracle. Packie Byrne (1917-2015) sings this version on Vol. 3 of the Topic Records The Voice of the People series. As I was learning the song, I imagined it accompanied by a consort of viols. Bára Grímsdóttir wrote this beautiful arrangement and imaginations became reality.
Anna Tam sang Holland Handkerchief on her 2022 album Hatching Hares. She noted:
Printed on broadsides from the 1670s titled The Suffolk Miracle, being The Relation of a young Man, who after his Death appeared to his sweetheart and carried her behind him Forty Miles in two Hour's Time, and was never seen after, but in the Grave. Tune of My Bleeding Heart. I love how the folk tradition has given the girl more agency—in the early printed ballads the grave is opened by men (and she soon dies when she hears the news), whereas in the folk tradition it is the girl who raises her lover's corpse, and we are left dramatically with the revelation.

I'm very excited to collaborate on this track with the sound artist srah who worked with recordings of my voice and gamba alongside other found sounds she's recorded and manipulated.
Alasdair Roberts sang The Holland Handkerchief on his 2023 album Grief in the Kitchen and Mirth in the Hall. He noted:
There are a few variants of this supernatural ballad, sometimes known as The Suffolk Miracle. Of those which have influenced my own interpretation, I ought to mention in particular recordings by three Irish singers—the great Cathal McConnell and the late great Frank Harte and Packie Manus Byrne.
Lyrics
Norma Waterson sings The Holland Handkerchief
A wealthy squire he lived in our town
And he was a man of high renown.
He had one daughter, a beauty bright,
And the name he called her was his heart's delight.
Many young man far to court her came
But none of them could her favour gains,
Till there came one of the low degree
And above them all why she'd fancy he.
But when her father he came to know
That his lovely daughter loved this young man so,
Over fifty miles he sent her away
All to deprive her of her wedding day.
One night as she lay in her bedroom,
Her lover appeared from out the gloom.
He touched her hand and to her did say,
"Arise my darling and come away."
'Twas with this young man she got on behind
And they rode swifter than any wind.
They rode on for an hour or more
Till he cries, "My darling, my head feels sore!"
A holland handkerchief she's then drew out
And with it wrapped his aching head about.
She's kissed his lips and these words did say,
"My love, you're colder than any clay!"
When they arrived at her father's gate
He said, "Get down, love, for the hour is late!
Get down, get down, love, and go to bed
And I'll see this gallant horse is groomed and fed."
And when she's arrived at her father's hall,
"Who's that, who's that?" her own father called.
"It is I dear father, didn't you send for me
By such a messenger?" And she's named he.
"Oh no dear daughter, that can never be,
Your words are false love, and you lie to me!
For on yon far mountain your young man died
And in yon green meadow well his body lies."
The truth then dawned upon this lady brave
And with her friends they exposed his grave;
There lay her love though nine months dead
With the holland handkerchief tied round his head.
Rosie Hood sings Lover's Ghost
It's of a farmer in our town,
His election goes the country round;
He had one daughter, a beauty bright,
And in every place was her heart's delight.
Many a young man a-courting came,
But none of them could her favour gain,
Till a young man came, of low degree,
Came underhanded and she fancied he.
Soon as her father came this to hear,
He separated her from her dear,
For four score miles this maid was sent,
To her uncle's home for his discontent.
Nine days after this young man died,
His ghost appeared at her bedside –
"Rise, rise, my love and come with me,
And break these chains and set me free."
This maid arose and goes up behind,
And she rode as fast as the very wind,
But not one word did this young man speak,
But, "My dearest dear, how my head does ache!"
She had a handkerchief of the holland kind,
And around his head she did him bind;
She kissed his pale lips, and thus did say:
"My dearest dear, you're as cold as clay."
He rode her up to her father's door,
And saw her father standing on the floor:
"O father dear, did you send for me
By such a kind messenger, kind sir?" said she.
He wrung his hands and tore his hair,
Much like a man in deep despair;
He tore the hair all from his head,
Crying, "Daughter dear, your young man is dead."
Early next morning this maid arose,
And straightaway to the churchyard goes,
She rose the corpse that was nine day's dead,
And found her handkerchief bound around his head.